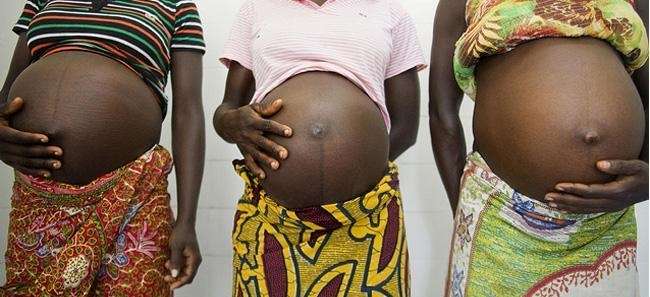 In the Ofoase Ayirebi constituency of the Eastern region, a staggering number of 100 teenage girls find themselves struggling to identify the fathers of their children, as the alleged responsible men shamelessly evade accountability. The heart-wrenching situation was brought to light by the Ark Development Organization, a nonprofit implementing the UNICEF-funded "Safe and Protective Environment for Adolescent Development (SPREAD)" intervention to combat teenage pregnancy in the area. The organization reported that out of the identified 153 adolescent mothers in the district in 2022, a hundred children remain unaware of their fathers' identities.
David Kwaning, Project Officer for the Ark Development Organization, expressed deep concern about the disheartening scenario, stating that the majority of men involved in impregnating these girls refused to accept responsibility. In one shocking case, a girl claimed that three different men were responsible for her pregnancy, but she couldn't pinpoint the exact person. Kwaning emphasized the gravity of the situation, highlighting the likelihood of over 100 children growing up without knowledge of their biological fathers.
The Ofoase Ayirebi constituency in the Akyemansa District of the Eastern Region has become plagued by sexual and gender-based violence against minors, leading to alarmingly high rates of early pregnancy. Numerous teenage girls have fallen victim to sexual abuse, enduring traumatic experiences while their perpetrators roam free.
Starr News Eastern Regional Correspondent Kojo Ansah uncovered several harrowing stories of victims who have suffered unspeakable abuse. However, justice often eludes them, leaving them scarred and vulnerable.
One heartrending account involves a 14-year-old girl from Akyem Anyinase. Exploiting her vulnerability, a 60-year-old farmer subjected her to unimaginable abuse. The victim, now carrying a six-month-old baby, revealed that her abuser's cousin impregnated her initially, but the abuser and his wife forced her to undergo an abortion. Subsequently, the man forcefully had sexual intercourse with her, resulting in her current pregnancy. Abandoned by her own widowed mother, the girl found support from a compassionate woman named Abena Ampomaa, who is demanding justice for her.
Another victim, also 14 years old and in sixth grade, had her future abruptly halted when a 20-year-old man left her pregnant at the tender age of 12. The challenges of early motherhood shattered her dreams and hindered her education. Determined to overcome stigma and pursue her education, she expressed the difficulties she faces as the responsible man fails to support her and their child.
Similar stories of shattered dreams and disrupted education emerge from Kwaboadi's No. 1 Junior High School, where a 17-year-old aspiring nurse battles against overwhelming odds while being nine months pregnant. Refusing to marry the man responsible for her pregnancy, she clings to her ambitions in the face of adversity.
In the Bontodiase community, two sisters, aged 17 and 18, suffered horrifying abuse that led to their pregnancies. The 18-year-old, a first-year Home Economics student at Ofoase Senior High School, now faces expulsion due to her pregnancy. Their distressed father chose an out-of-court settlement instead of reporting the abuse, unknowingly perpetuating the cycle of injustice.
Akyem Akokoaso witnessed the abduction of two siblings, aged 15 and 12, by a group of motorcycle riders commonly known as "okada" riders. The girls were subjected to brutal gang rapes within the confines of a single room. Shockingly, the 12-year-old, a mere child herself, is now burdened with a five-month pregnancy. The victim's grandmother demands justice, but the mother of one of the alleged perpetrators threatens her with curses.
These heart-wrenching stories depict the immense challenges faced by young girls in the region. Their hopes have been shattered, education abandoned, and futures hang in the balance. The abuse faced by these girls reflects a deep-rooted issue of poverty, making them vulnerable to manipulative abusers. Lack of access to basic necessities, such as sanitary pads, pushes them towards desperate measures and exposes them to further exploitation.
According to the World Health Organization (WHO), girls who give birth before adulthood are prone to increased health risks, social stigma, and adverse long-term economic impacts. The Sustainable Development Goal Target 3.7 aims to ensure universal access to sexual and reproductive healthcare services, including family planning, information and education, and the integration of reproductive health into national strategies and programs.
In an effort to combat the prevalent issue of sexual and gender-based violence, Ark Development Organization and UNICEF have been implementing the two-year "Safe and Protective Environment for Adolescent Development (SPREAD)" project. The project has made significant strides in addressing the menace, with a total of 207 teenage mothers identified from last year to the first quarter of 2023. Seven of these young mothers have been supported and sent back to school. The project officers remain optimistic that teenage pregnancy cases will continue to decrease by the project's conclusion this year.
The Executive Director of Ark Development Organization, Emmanuel Kwarfo Minta, emphasized the creation of public awareness regarding the negative impact of teenage pregnancy and sexual abuse on teenage girls and the community as a whole. He also hinted at efforts to involve the Domestic Violence and Victims Support Unit (DOVSSU) in pursuing justice for the victims.