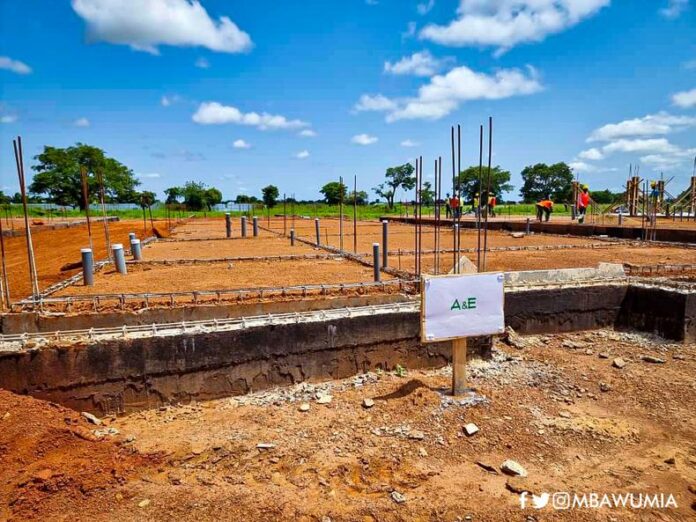 Former military personnel with ties to Mike Nyinaku, the embattled Biege Capital Bank Owner, have thrown a wrench into the La Nkwantanang Hospital project, a crucial component of the government's ambitious Agenda 111 initiative. Despite being subject to two separate court orders explicitly forbidding their involvement, these Ex-Warrant Officers, acting at the behest of Nyinaku, have managed to bring construction to a standstill, resulting in extensive delays and financial complications.
The hospital project, designed to revolutionize healthcare infrastructure across the nation, now finds itself in jeopardy due to the unexpected interference by these rented former military individuals. The disruption has sparked serious inquiries into the motives underlying the Ex-Warrant Officers' actions. While Agenda 111 strives to enhance medical services nationwide, this episode raises serious concerns about the effectiveness of legal enforcement mechanisms.
A recent on-site investigation underscored the extent of the problem – the construction site stands abandoned, a stark symbol of the halted progress. The consequences of this obstruction ripple beyond the surface, casting doubts on the timely delivery of vital medical services and undermining the core objectives of the Agenda 111 program.
Critics have been vocal about the apparent lack of swift police action against both the Ex-Warrant Officers and Mike Nyinaku. With the legal battle intensifying, questions regarding the potency of court orders and the subsequent enforcement mechanisms have emerged.
The Disregard Court Orders
Justice Emmanuel Ankamah, presiding over suit no. LC/187/2022, issued an interlocutory injunction against Beige Homes Ltd. and Michael Nyinaku. The order unequivocally restrains these entities, their agents, employees, and representatives from interfering with or trespassing on the disputed land until the case's resolution.
Furthermore, Justice Ankamah has taken a resolute stance against any attempts to alter the injunction. He firmly declined a motion for variation, stating that such an application essentially seeks to have him review his own prior decision, an action that lies beyond his purview.
With the legal dimensions becoming increasingly pronounced, the trajectory of the case and the hospital project remains in a state of flux. The intersection of private interests, legal rulings, and public welfare serves as a microcosm of the challenges faced in complex development projects.
In a connected incident, arrests have been made in a land dispute involving these Warrant Officers (Ex-WOs) hired by Mike Nyinaku, the ex-owner of Beige Capital Bank. The development emerged from a petition filed by Daniel Anane, claiming land ownership in Adamrobe. The incident raises questions about land ownership, armed involvement, and Nyinaku's role.
Anane presented four land title certificates to support his claim, while Nyinaku's defence lacked substantial documents.
According to a police report prepared for the Director-General by SA Ayawine ACP/Admin, Ex-WOs, including Kingsford Apeku, Asiamah Kwabena, Kofi Akese, Francis Appiah, Alexander Ansah, and Stanley Dogbe Azudey, were arrested during a site visit. They were allegedly armed with pump-action guns, BB cartridges, and knives, claiming to act on Nyinaku's behalf.
Nyinaku was subsequently arrested, and a search of his residence revealed additional firearms. He admitted to acquiring them to protect his land, though this contradicts land guard laws.
This incident exposes Nyinaku's potential role and motivations, shedding light on land dispute complexities and armed interventions.
The case is a stark reminder of property ownership intricacies and extreme measures taken to safeguard interests. It highlights the complex dynamics surrounding land conflicts, prompting further examination of their consequences.