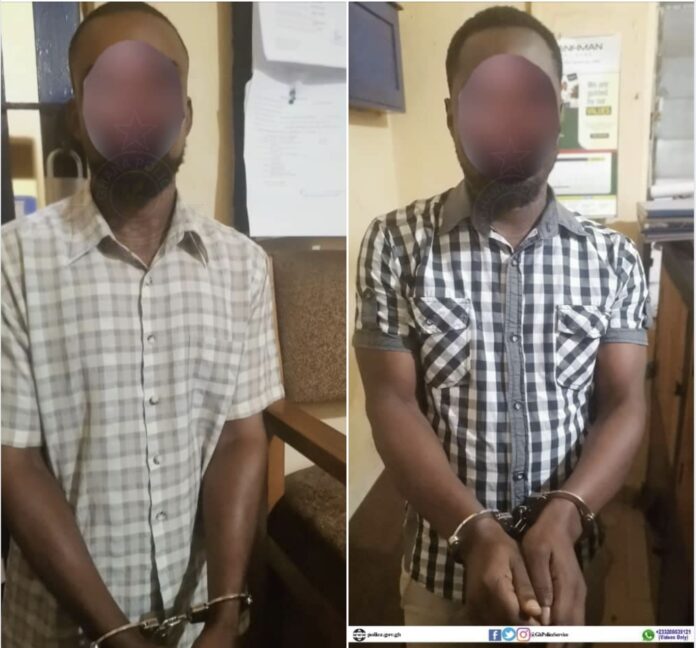 In a swift response to thwart examination malpractices, the Police apprehended two individuals on Monday, 7th August 2023, at the Dunkwa Secondary Technical Centre in the Upper Denkyira East Municipality of the Central Region. The suspects, identified as Albert Adu-Gyan and Yaw Adadai, both educators hailing from PEEBLE Calvary and Oxford Santech schools respectively, were caught red-handed attempting to smuggle solved examination questions into the examination hall during the ongoing Basic Education Certificate Examination (BECE).
The vigilant efforts of law enforcement led to the arrest of the suspects as they attempted to compromise the integrity of the examination process. The Police uncovered that the seized items included two mobile phones and solved examination questions on separate papers.
Both individuals are currently in police custody and will face legal proceedings. The Police underscore the seriousness of their commitment to maintaining the sanctity of the examination process and emphasize that any attempts to engage in examination malpractices will be met with swift and resolute action.
The public is strongly cautioned against participating in such illicit activities during the ongoing BECE. The Police are unwavering in their commitment to ensuring fair and unbiased examination proceedings and will continue to apprehend and prosecute any individuals found involved in examination malpractices.