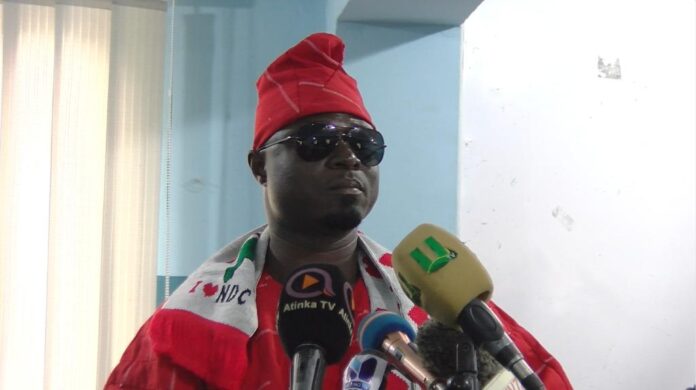 Scores of angry youths of National  Democratic Congress, NDC, vented their anger on the leadership of their party for failing woefully to protect the votes of the electorates in the 2024 elections.
The group under the banner, 'Eagle Eyesight' has cautioned all future aspirants for party positions  to demonstrate the highest sense of commitment, loyalty, and fearlessness to the course of the National Democratic Congress.
They said, they as a group, will not entertain any form of betrayal, disloyalty and the spirit of sellout on the part of any leader of the party.
'We are monitoring closely persons who claimed not to have money to support the 2020 general elections but have suddenly surfaced with huge sums of money and are going round sharing unspecified amounts just to keep their positions to the detriment of the great umbrella. They will be met head on without recourse to any party structure. Any executive member who will sell our votes and strategies will also not be spared. We are monitoring with eagle eyes every move of all aspirants throughout the country'.
It's their case to clash any person making fortunes from the sale of the party to the detriment of the NDC without recourse to party structures.  For them, the NDC's interest is superior than any individual.
According to them, the Ghanaian populace will not forgive the National Democratic Congress if they sit aloof and allow the NPP and Jean Mensa to manipulate the outcome of the 2024 general elections.
The NDC youth group said it deemed it fit to address the nation after an exhaustive scrutiny of all the issues relating to the economy, health, unemployment, corruption, insecurity of lives, property and other incessant unruly affairs in the country and the NPP's inability to live up to its campaign promises.
The Convener of the Eagle Eyesight, Patrick  Ndego addressing a press conference in Accra on Monday, stated that in January 2017, the National Democratic Congress (NDC) handed over to the NPP  with A SOUND  economy. But, SIX years later, Ghana has  surpassed to become the world's poverty capital, with more than half of the  people living in extreme poverty.
Patrick Ndego therefore called on Ghanaians, especially youth and women to join the NDC and rescue Ghanafrom the collapse, adding that a vote for NDC in 2024, against the NPP is patriotism for Ghana.
They were particularly irked that Supreme Court's campaign was roundly defeated by the NPP.
"We are not satisfied with our witnesses in court. Especially, Rojo Mettle Nunu and Dr Kpessah Whyte who went to the eEectoral Commission only to drink tea and sabotaged the efforts of the party instead of collating results.