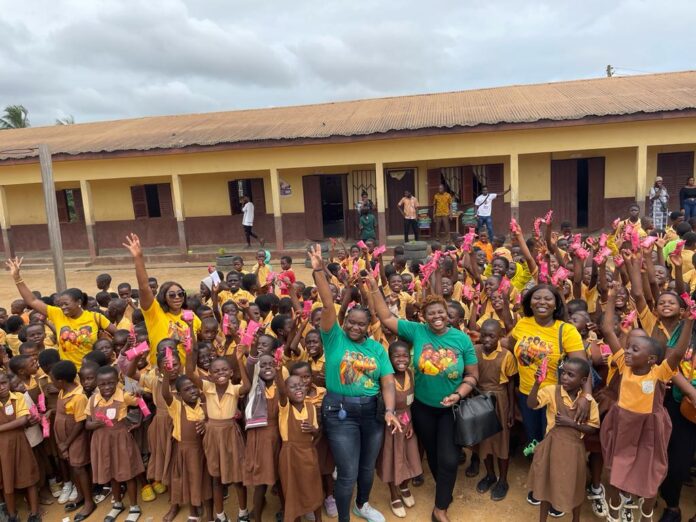 On Wednesday, September 13, 2023, a heartwarming donation ceremony took place at Kakumdo Basic School, orchestrated by the 2006 year group president, Sefakor Danku, representing the alumnae of Wesley Girls Senior High School. This event was not just an act of charity but also a celebration of a significant milestone, as the year group marked 20 years since they first entered Wesley Girls.
Sefakor Danku, in his remarks during the ceremony, highlighted the importance of giving back to the community and alma mater. He explained, "To celebrate this milestone, we're embarking on a social responsibility tour where we came to Kakumdo Basic School to see the girls and interact with them."
Following a long-standing tradition of Wey Gey Hey alumnae, the group took it upon themselves to educate the girls on menstrual cycle issues, emphasizing cleanliness and understanding. Sefakor added, "We're here also to donate some sanitary towels and speak to them about menstrual hygiene. We're told some girls skip school just because they can't afford sanitary towels."
In addition to their educational efforts, the alumnae ensured that the entire school enjoyed a delightful treat by providing ice cream to the students. This act was accompanied by encouraging words to motivate the young learners to excel in their studies.
The Wesley Girls alumnae's benevolent actions at Kakumdo Basic School exemplify their commitment to nurturing the next generation and maintaining the tradition of giving back to society. As they celebrate their 20th anniversary, their philanthropic efforts serve as an inspiration for others to follow suit, ensuring that the spirit of community support and compassion continues to thrive.