On Saturday, the nonuplets – Fatouma, Kadidia, Hawa, Adama, Oumou, Bah, Mohammed, Oumar, and Elhadji – who broke the Guinness record for the most living births at once two years ago, celebrated their first birthday at home in Mali.
The nonuplets' relatives, friends, and even their paediatrician were present at the celebration.
Their favourite theme 'Miraculous' was chosen by the nonuplets themselves for their second birthday celebration," shared Hailma Cisse, their mother, adding that relatives, friends, and the paediatrician also attended the event.
Guests at the party were greeted with a poster bearing a picture from the "Miraculous" cartoon and the names of the children, while small decorative boxes featuring images of the cartoon's different characters added to the festive atmosphere inside the family's home.
"I am grateful to God for giving me the opportunity to celebrate my children's second birthday at home in Mali," expressed 27-year-old Cisse.
Cisse was pregnant with seven babies, but due to the complexity and special care required for such a rare multiple pregnancy, the doctors in Mali, following government orders, transferred her to a clinic in Casablanca, Morocco. On May 5, 2021, the young mother gave birth to nine children instead of seven, comprising five girls and four boys.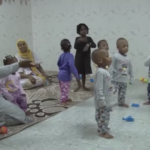 During the celebration on Saturday, it proved difficult to gather all nine siblings together for a family photo as one of them was always missing, even during the cake-cutting ceremony.
Prior to the birth of their nonuplets, Cisse and her husband Abdel Kader Arby had a family of four, including a 4-year-old daughter. The sudden and significant expansion of their family was unexpected.
Arby expressed his amusement at the situation, stating, "Usually, the birthday celebration is for just one child, but in this case, we ended up with nine children."
The couple receives support from their families, the Malian government, and an NGO to provide food, education, and general care for their children.
About The Author