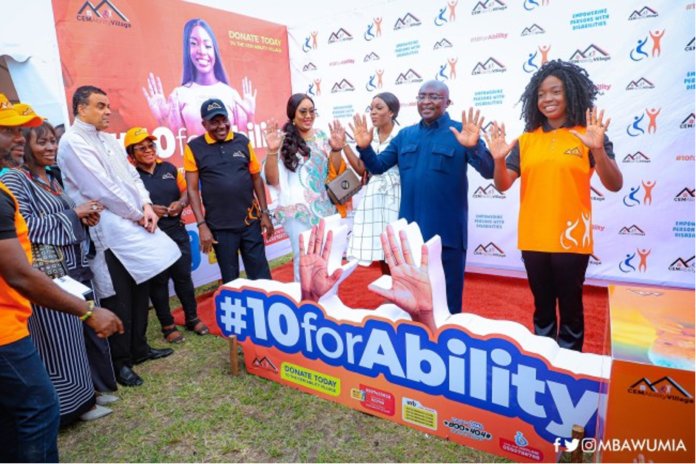 The Vice President of the Republic of Ghana, Alhaji Dr Mahamudu Bawumia has initiated the groundbreaking ceremony for the CEM Ability Village, a project aimed at supporting and empowering Persons Living With Disabilities (PWDs) in Agortor-Kope, within the Ningo-Prampram District of the Greater Accra Region. Spanning over 2,000 acres, this Integrated Community and Empowerment Centre is a visionary initiative led by the Charismatic Evangelistic Ministry (CEM) and its Ability Village Charity.
The primary goal of the CEM Ability Village is to provide PWDs with skills training and specialized healthcare, enabling them to actively participate in all aspects of society. The project will be executed in phases, with immediate construction commencing on the initial 500-acre phase, while the charity continues its efforts to secure funds and equipment to complete the entire project efficiently.
Vice-President Bawumia, known for his passionate support of PWDs, commended the church's leadership, particularly Reverend Steve Mensah, for conceptualizing and undertaking this significant endeavour. He acknowledged the church's commendable track record in organizing the "Day of Help" to provide assistive devices, medical care, and other essential items for individuals with disabilities nationwide.
During his remarks, Vice-President Bawumia highlighted the multitude of barriers that hinder the full inclusion of PWDs in society. These barriers encompass social, attitudinal, physical, educational, transportation, and communication challenges, resulting in adverse consequences such as social exclusion, health issues, discrimination, stigmatization, low self-esteem, and financial difficulties. He stressed the urgent need to confront these issues through concrete actions that eliminate prejudices and barriers, allowing PWDs to integrate seamlessly into communities.
Vice-President Bawumia emphasized that the responsibility to support individuals with disabilities lies not only with the government but also with every citizen. He pledged his unwavering commitment to the success of the CEM Ability Village, emphasizing that it holds personal significance to him. He called upon corporate entities, donors, development partners, associations, religious organizations, and individuals to contribute generously to this praiseworthy project. Additionally, he welcomed technical assistance from development partners and donations of construction materials and equipment for the skills training facilities and the hospital.
The Minister for Gender, Children, and Social Protection, Lariba Zuweira Abudu, expressed gratitude to the local chiefs for their generous contribution to a large tract of land for the project. She assured absolute support from the ministry to ensure the timely completion of the CEM Ability Village. This comprehensive and inclusive center aims to address the challenges faced by PWDs and empower them to lead fulfilling lives.
"Consequently, persons with disabilities are more likely to live in abject poverty than persons without disabilities. Unfortunately, our society's actions and inactions continue to create barriers to their integration into our communities.
"It has become expedient to tackle these issues head-on with concrete actions that will deal with all these prejudices and barriers impeding the full inclusion of persons with disabilities in our communities. Therefore, CEM Ability Village shows that we do not have to wait for the government to do everything. We are all responsible for our fellow brothers and sisters living with a disability.
"We all need to put our hands on the plough and work to remove all obstacles facing our brothers and sisters. Let us tap into our human nature and give out our resources to lift persons with disabilities from this quagmire of despondency."
"We have to do a lot as a Government, and we are committed to addressing these challenges," he stressed.
Dr Bawumia, who is a Patron of the Ghana Lepers' Aid Committee and whose care and philanthropic activities with persons living with disabilities are well documented, pledged his commitment to the success of the project and urged all to do the same.
"I must admit that this initiative to support persons with disability is dear to my heart, and I will offer all the necessary support for realizing the CEM Ability Village. The government will also do its part in the realization of this project. Supporting the CEM Ability Village is our civic and moral responsibility. Let us all rise to the occasion for every life matters, and we should not leave anyone behind.
"This groundbreaking is a call to action; Ghana must stand with persons with disabilities. I will encourage Corporate Ghana, the donor community, development partners, Associations and groups, religious organizations, and individuals to give generously to this laudable project. Technical assistance from development partners and construction materials and equipment donations for the skills training facilities and the hospital are welcome," he emphasised.
The Minister for Gender, Children and Social Protection, Lariba Zuweira Abudu, thanked the chiefs of the area "for releasing such a large tract of land for such a laudable project", and pledged the Ministry's "absolute support" to ensure its speedy completion.
The CEM Ability Village is programmed to be an inclusive and empowerment centre to help address some of the challenges facing persons with disabilities.