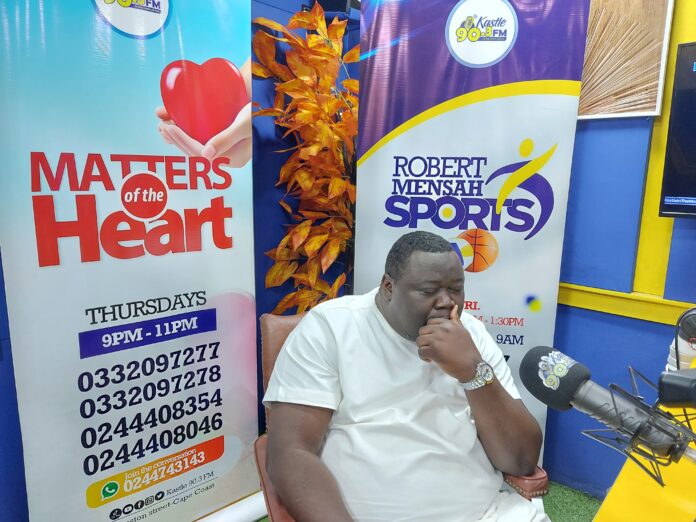 In a heartwarming gesture, Woodin, the popular fashion brand, has presented a series of vouchers to Francis Ejaku Donkoh as a delightful birthday gift.
The Cape Coast Sales Officer of Woodin, Justice Kofi, personally handed over five vouchers to Francis Ejaku Donkoh in celebration of his birthday. The presentation took place during a brief yet significant ceremony at Mr. Ejaku Donkoh's office on Tuesday, August 22nd, 2023.
Expressing Woodin's sentiments, Justice Kofi conveyed, "Today, on your birthday, Woodin is here to join in your celebration. We hold our relationship with you in high regard, appreciating the years of collaboration we've shared. This token is our way of showing gratitude and honoring your remarkable presence."
Overwhelmed and pleasantly surprised, Francis Ejaku Donkoh, the Executive Director of Kastle FM, extended his gratitude to Woodin for this unexpected honor. He shared, "I'm deeply touched by Woodin's recognition on my birthday. It's a gesture I didn't anticipate, and I am genuinely appreciative of your kind gesture."
Mr. Ejaku Donkoh also expressed his eagerness to nurture an even stronger partnership between the two entities. He affirmed his commitment to forging closer ties with Woodin in the future. The intimate ceremony was attended by select members of the Kastle FM team.
Francis Ejaku Donkoh, notable for his roles as the former New Patriotic Party Youth Organizer for the Central Region and as a one-time Regional Organizer aspirant for the same party, currently holds the position of Executive Director at Fed Kastle Media. The media company owns Kastle FM, a thriving radio station in Cape Coast.
As he marks his birthday, Mr. Ejaku Donkoh has been inundated with messages of well-wishes from friends, family, and acquaintances who appreciate his kind-hearted and philanthropic nature. Renowned for his political involvement, he is celebrated as a politician with a compassionate disposition.
Woodin's gesture has not only warmed Mr. Ejaku Donkoh's heart but also reaffirmed the significance of meaningful relationships and connections in both personal and professional spheres.