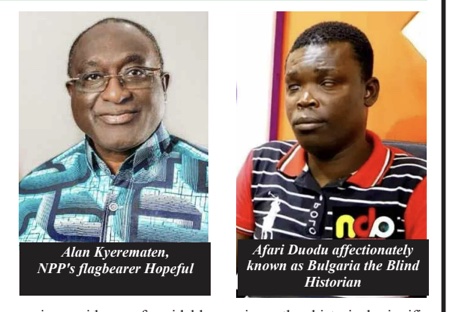 In a recent interview with KOFI TV, Afari Duodu affectionately known as Bulgaria the Blind Historian has offered a cautionary perspective on the aspirations of former Trade Minister, Alan Kyerematen, for the presidency. According to Bulgaria's insights, Kyerematen's quest to become the New Patriotic Party's (NPP) flagbearer and subsequently the nation's leader is an uphill battle that rivals even the notion of raising the dead.
Bulgaria's analogy draws a stark comparison between two seemingly insurmountable tasks: reanimating deceased individuals and Alan Kyerematen securing the NPP's flagbearer position. He shared this perspective in an engaging conversation with Kofi Adomah, where he elucidated on the significant hurdles that lay ahead for Kyerematen's political ambitions.
The Blind Historian recalled a pivotal moment in Alan Kyerematen's political journey – his written and signed resignation in 2007. This decision marked a turning point for Kyerematen's engagement with the NPP and is widely perceived as a significant blow to his political trajectory. At the time, Kyerematen's resignation letter, personally delivered to Mr Peter Mac Manu, the then chairman of the NPP, signalled the end of his immediate political prospects within the party.
During the 2007 campaign season, Alan Kyerematen held the responsibility of overseeing Identifiable Groups within the NPP's campaign team. His association with Nana Akufo-Addo, the NPP's flagbearer at the time, did not shield the party from facing defeat in the 2008 elections, where the NPP lost to the National Democratic Congress (NDC), led by Atta Mills.
Now, in the current political landscape, Alan Kyerematen has set his sights on clinching the NPP's flagbearer position for the upcoming 2024 elections. However, Bulgaria's perspective, grounded in historical events and contextual nuances, paints a challenging picture of Kyerematen's aspirations. The Blind Historian's words serve as a reminder of the hurdles that Kyerematen must overcome – hurdles that Bulgaria considers as formidable as the hypothetical act of reviving the deceased.
As the political landscape continues to evolve, Alan Kyerematen faces an uphill battle to regain the trust and support of the NPP and its members, given the historical significance of his past decisions. Whether he can overcome these obstacles and secure the coveted flagbearer position remains to be seen, but Bulgaria's perspective underscores the complexity of his journey ahead.